Creating a PPC Policy
There are Merchants who run in-house Pay-Per-Click Advertising Campaigns on search engines such as Google, Yahoo!, or Bing. There are also Affiliates who specialize in PPC Advertising. To avoid unnecessary competition, these Merchants might restrict their Affiliates from running similar keyword or phrase campaigns.
Merchants who have such restrictions list the phrases and keywords in their ShareASale Program under the Program Agreement and by uploading them as keywords within the Pay Per Click (PPC) Compliance Tool. This list of restricted keywords is referred to as a merchant's PPC Policy.
When an Affiliate of a Merchant's ShareASale Program bids on these already restricted keywords or phrases in order to display advertisements, drive traffic and earn commissions from said Merchant, that action is referred to as a PPC Violation. Merchants may take remediation actions against an affiliate who is caught violating their PPC policy such as removing an affiliate from their program or withholding commission payouts for that affiliate on unlocked transactions.
Listing a PPC Policy to Affiliates
A merchant may upload a list of restricted keywords within the PPC Compliance Tool located under the Tools tab within their ShareASale account. In order to upload a keyword, select the upload keyword button on this page. Enter the desired keyword or phrase within the Keyword tab of this tool.
In order to list the keyword as restricted, leave the Bidding Allowed field set to "No" which is the default. It is possible to set this field to "Yes" and instead list a bid limit, or maximum amount that an affiliate can pay for that keyword. Please note, keywords where Bidding Allowed is set to "Yes" are not eligible for ShareASale's Keyword Monitoring service as the service cannot detect a bid limit level automatically in order to determine if an affiliate's bid is in violation of the PPC policy.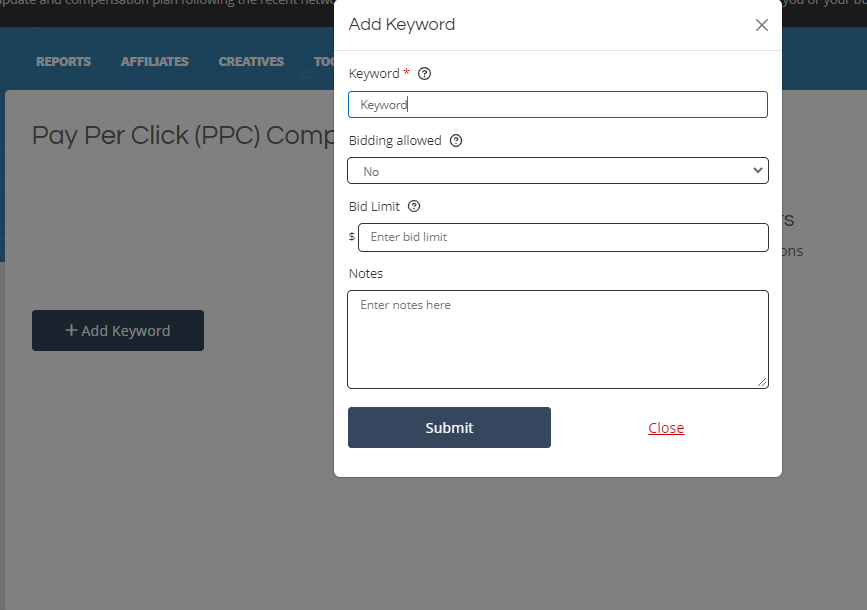 Once the keyword is configured, hit submit to list this keyword within a merchant's keyword policy.
We also recommend listing PPC restrictions, along with other marketing restrictions, within a merchant's Affiliate Agreement to ensure that the PPC policy is communicated in all areas where an affiliate will check for a merchant's program policies. In order to update the Affiliate Agreement, navigate to My Account > Affiliate Communications and select the Affiliate Agreement tab on this page.
Keyword Monitoring – Powered by Ad Police
ShareASale's Pay Per Click (PPC) Compliance tool allows merchants to select up to three listed keywords for automatic monitoring. ShareASale partners with Ad Police to provide monitoring services on Google, Bing, Yahoo, AOL, and other popular search engines. In order to initiate monitoring on a keyword, merchants should click on the "Monitored" checkbox next to the keyword they wish to monitor and hit submit. This will configure the keyword for monitoring.

Merchants can uncheck a keyword to stop monitoring. They can monitor up to 3 keywords at a time.
Please note, it takes the monitoring service 2-3 days to initiate monitoring and return results. Scan coverage is also run intermittently up to four times per day. As such, in order to guarantee full scan coverage of a keyword, we generally recommend keeping a keyword monitored for at least 2 weeks before switching out monitoring between keywords on your list.
Monitoring Results
2-3 days after selecting a keyword for monitoring, the ShareASale monitoring service (Powered by Ad Police) will start to return results. If an affiliate is found bidding on restricted keywords, a bid violation will appear within the merchant's ShareASale account: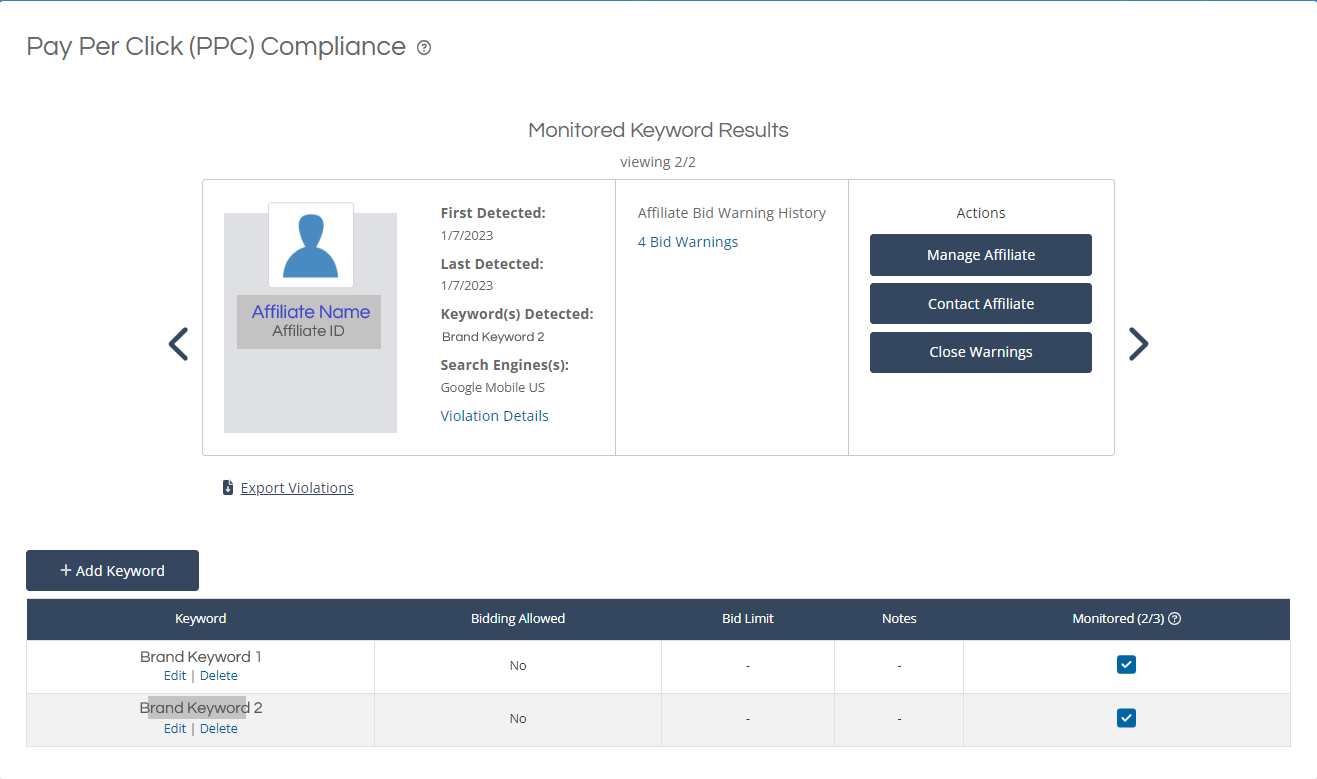 When a bid violation is detected, the affiliate in question will see a warning within their PPC admin that they are in violation of the merchant's keyword policy and are prompted to review that keyword policy and remove all listed keywords from their search engine bidding campaigns.
Merchants can click on Violation Details to see a screenshot of the ad that was captured on a search engine:
Also, the merchant can view the redirect info to verify which affiliate link was used within the advertisement's redirects, thus verifying the affiliate's monetization of the detected advertisement: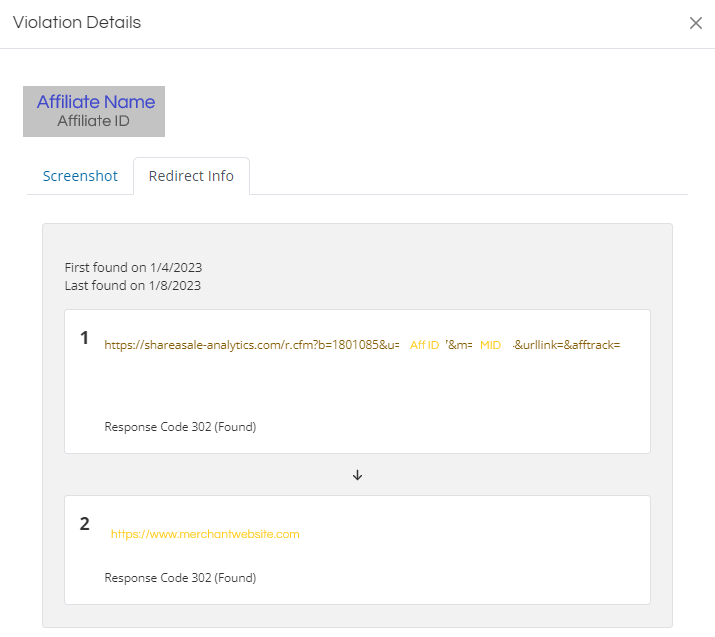 The screenshot and redirect info provide definitive evidence of a violation. A violation can be closed by the merchant, via hitting the 'close warnings' button. If the merchant takes no action on an open violation, the violation will automatically close 30 days after ShareASale's monitoring services ceases to detect further bidding activity. Data from previously closed violations may be viewed by hitting the 'Export Violations' button.
When viewing a bidding violation, a merchant has access to quick links to both contact the affiliate and manage that affiliate's status within the merchant's program. We recommend that merchants send a warning message upon an affiliate's first violation or if violations are detected shortly after the merchant adds new keywords before taking further remediative action. If repeat violations are detected from the same affiliate, merchants generally will elect to decline that affiliate from their program.
When the bid violation is resolved to the merchant's satisfaction, we recommend closing the bid violation. Affiliates can see that bid violations are closed within their PPC admin, clearing a warning they get for open violations.
Policy Violations Detected Outside of ShareASale Monitoring:
While ShareASale's monitoring service (powered by Ad Police) operates on most major search engines, the scan coverage of 4 times per day per keyword means that it is possible to also detect affiliate bidding violations by self-monitoring before the violation is caught by ShareASale. In addition, a merchant's PPC policy could extend to Ad Networks, which are not scanned by ShareASale's monitoring service.
In order to enforce a keyword policy for violations that are detected outside of ShareASale's PPC compliance tool, ShareASale recommends gathering and storing the following details on a violation to be used as evidence in the event of a dispute:
Affiliate ID

A screenshot displaying the ad, search term, and affiliate ID

Search engine used

Search term used

Description of violation
Once the above data points are gathered, we recommend reaching out to the affiliate with a warning or proceeding with further remediation for repeat violations.
Helpful Tips:
How do I determine what affiliate a link belongs to?
You can use the Affiliate Link Tool (https://www.shareasale.com/m-afffind.cfm) to determine what Affiliate a link belongs to. This is particularly useful for determining who is bidding on pay per click (PPC) search terms.